During the 2015/2016 season we shipped over 4,000 system crates to customers across the United States. With each crate weighing an average of 500 pounds; we manufactured, packaged, and delivered about 2,000,000 pounds of cutting edges last season. That's equivalent to 2,000 killer whales... whoa.
Shipping
Packaging and moving these crates is no walk in the park. While our shipping teammates have been known to demonstrate super-human strength, we are aware of the effects consistent heavy lifting can have on the body.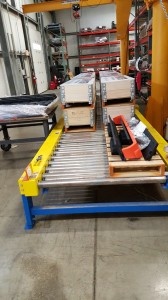 Our new automatic conveyor system allows operators to package systems in an easy and safe manor. The operators are able to move crates down the conveyor belt with the push of a button.
Additionally we are gearing up to install an overhead bridge crane system. This bridge crane will decrease the amount of heavy lifting required to place the cutting edges and wear parts into the crate.
Improving Shipping
As our systems continue to gain popularity our shipping processes continue to improve in order to accommodate the increasing demand while, most importantly, keeping our operators safe. We would rather our employees save their muscle strength for the gym.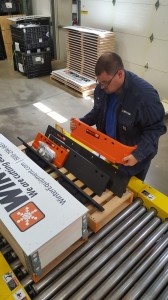 Wesley Crouch
Winter® Shipping Operator
Valued team member since 2015
Click below to take advantage of the latest offer from Winter® Equipment and become a cutting edge expert!