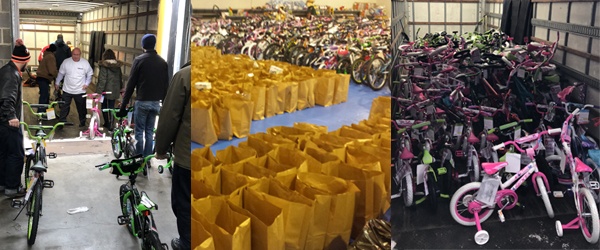 Do you remember your very first bicycle? Whether it was blue, pink, had streamers from the handle grips, or featured a bell, you can probably remember what it looked like and the joy that came with it. This holiday season, you can help Winter Equipment Company bring a child in need a brand-new bicycle.
Since 2009, Winter Equipment has held an annual fundraising event, Santa's Bikes for Kids, to support the Salvation Army's Holiday Program. We believe it is important to serve those in need and choose to support the Salvation Army because of all they have done to provide for the community. Plus, it's a great way to celebrate our favorite season!
The event features a Chinese Auction that is supported by local businesses and friends, and all proceeds from the auction are donated to the Salvation Army. We are inspired each year by those in our community who come together and joyfully donate bicycles or the funds to purchase a new bicycle for a child in need. These bicycles are then distributed throughout Lake County communities, bringing holiday magic to a child's doorstep.
Last year we received $4,000 in donations for the Salvation Army to serve people in need of food, shelter, or clothing. Winter Equipment then matched that $4,000 to purchase new bicycles, clothing, and tablets for children in our community. This year we plan to exceed those numbers and anticipate being able to purchase 140-150 bicycles!
Want to get involved? We are still accepting donations of new bicycles and monetary contributions. We also welcome you to attend our Chinese Auction!
Winter Equipment Company
1900 Joseph Lloyd Parkway
Willoughby, Ohio

Tuesday, Dec. 11, 2018




11:00 AM - 1:00 PM




5:00 PM - 7:00 PM

Tickets: 3 for $1.00 (cash or check)

Wednesday/Thursday, Dec. 12-13, 2018


11:00 AM - 1:00 PM
Drawing will be held at 9:00 AM on Friday, December 14. You do not need to be present to win.

Join us this holiday season as we bring holiday joy to our community. For more information about Santa's Bikes for Kids, contact us at (440) 946-8377 ext. 215.