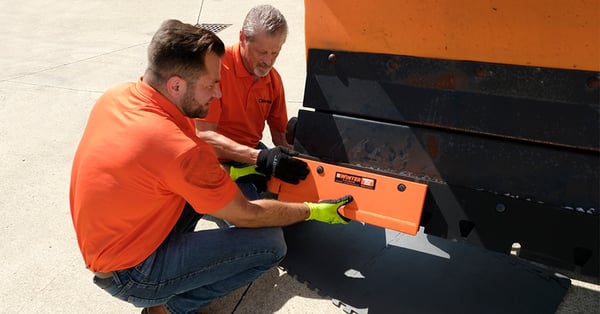 There's nothing worse than finishing a hard season of clearing roads blizzard after blizzard, only to be forced to immediately begin maintenance on those same roads.
Road maintenance is an expensive problem that you can absolutely reduce the need for – starting by using the right tools.
Winter® Equipment offers innovative systems, an all-in-one solution designed to save you money. Systems include blades, guards, hardware, and free freight. They are easy to order, install, and inventory.
Because a system can be an investment for any organization, it's important to get the right one for your unique job and the right partner who can help all season long. Winter® is happy to come to you for a demonstration and specializes in asking the right questions to find the blade you need to get the best results this winter.
Winter® does this analysis better than anyone using a refined series of questions as well as educational sessions that include training and installation instructions.
To help each customer find the system guaranteed to work best for them, we start by asking about your current system. What are you running and how often are you breaking or wearing blades? How many blade changes do you conduct each season?
Then, we move into what you're looking for in a new blade setup. What do you want from your blades? Do you have a chemical strategy? Do you want the pavement to be completely cleared or do you expect to leave some snow or ice behind?
Next, we determine the factors unique to your location. What are your road types? Your plow speed? Your road composite?
Once we have the answers to these questions, our trained experts determine the right system for you. When you purchase a Winter® Equipment Co. system, we ensure you're buying what's right for your unique fleet and variables.
The best part? With a high-quality blade and the power of a Winter® system, you won't have to worry about damaging your roads the way you did with low-quality, low-bid blades. Come Spring, you can take a breather – you deserve it!
Interested in setting up your own systems demo? Click below!