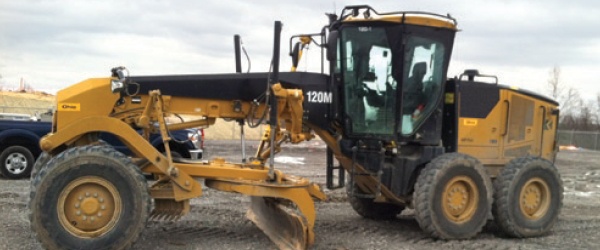 According to The U.S. Department of Transportation's Bureau of Statistics, 35% of all roads in the United States are unpaved as of 2012. That equates to 1.42 million miles of road!
Budget constraints are also causing some state agencies to rip up paved roads they can't afford to maintain (source). These miles of gravel road are used to transport agricultural products in and out of farm fields and timber out of forests and as a way to gain access to remote areas such as campgrounds, lakes, and homes.
With the boom in unpaved roads and the increase in new and heavier equipment, maintenance for these roads has become an ever-increasing priority. Read on for some helpful tips for using road graders to maintain gravel roads.
Tip 1: Watch your speed.
The road grader is the primary piece of equipment utilized in maintaining gravel roads. When using a motor grader, it's important to consider the moldboard angle, moldboard pitch, machine stability, and articulation.
Most importantly, remember to check your speed and slow it down! A top speed of 3-5 MPH is recommended for motor graders because as the machines begin to "lope" or bounce, they leaves ridges in the road surface. Machine stability can be affected by changes in moisture, material quality, and quality of the subgrade, so going slow will ensure the grader remains stable as you work.
Tip 2: Moldboard angle and pitch are CRITICAL.
The angle of the moldboard is critical for good maintenance. The recommended moldboard angle is between 30 and 45 degrees. Operating your grader without enough of an angle on the moldboard can cause material to spill around the leading edge (toe) of the moldboard.
The tilt or pitch of the moldboard can influence productivity as well. If it is back too far, material can build up in front of the board, and cause equipment to be less reliable when leveling and smoothing. If the moldboard is pitched too far forward, the machine basically just drags the material versus carrying it.
Tip 3: Take advantage of articulation.
The articulation feature is included in most modern road graders. It allows for greater reach with the moldboard. In both routine and rehabilitation applications, it can allow the grader to stay on the roadway for stability while the moldboard recovers material off the roadway.
Remember to make use of it instead of taking the whole grader off the road to recover material! It will save you a ton of time and effort, and it's much safer.
Road graders are a useful tool for maintenance, but it's important to make sure you use them correctly to avoid wear and tear. After all, graders don't come cheap! Remember these tips next time you're in the operating seat of a grader and your budget will thank you!