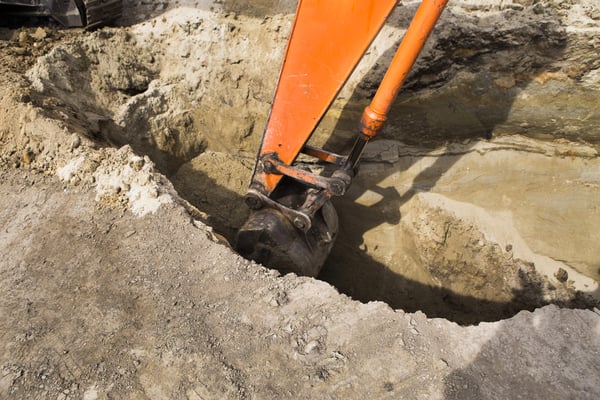 Pre-planning is immensely important to excavation work. No matter how many trenching, shoring and backfilling jobs you've completed in the past, it's important to approach each new job with care and preparation.
Many on-the-job incidents result from inadequate initial planning. Having to correct mistakes in shoring or sloping mid-project slows down the operation, adds to the cost of the project and makes a cave-in or other excavation failure more likely.1
Here are our top planning tips for trenching jobs.
1) Always put safety first.
This might seem apparent but it's extremely important to remember that serious hazards come naturally with trenching jobs. Some, like cave-ins, are more likely to even be fatal to workers. One cubic yard of soil can weigh as much as your car! Ensure that workers enter trenches with protective measurements put in place.
Trenching can also bring falling loads, hazardous atmospheres, and mobile equipment hazards. Thus, it's important to insist on higher and higher levels of safety as technology evolves and jobs become more complex.
2) Be aware of all safety procedures in advance.
Never go into a trench job unprepared. Participate in an inspection before the machine operates and while it's working. Check trenching conditions, safety and hazard management systems and employee wellbeing.
All workers should be trained and quizzed in safety measures and should know how to operate transportation, installation, and trenching tools while adhering to safety standards.
3) Stick to the dress code.
Here's what's recommended at the very least to stay safe in a trenching zone.
Safety helmet
Hearing protection
Safety glasses
Protective, high-visibility clothing
Respiratory protection
Safety boots
Any site-specific PPE as required2
4) Plan, plan, plan!
Before operating your machines and tools, prepare adequately. Simple preparatory checklists can be potentially live saving. Remember to complete the following.
Block off work area from bystanders.
Have a plan to stop operating if bystanders enter the work area.
Operate only from the operator's station.
Never drop a boom with a rapidly moving digging chain on the ground.
Use caution when operating on slopes.
Try to dig with the trencher in a level position.
Be alert to changes in the work area.
Watch out for changes in weather and soil conditions.
Keep equipment and bystanders away from the trench after it is dug (the weight can cause a cave-in!)
Never attempt to free a jammed chain when the unit is running.
Do not operate a trencher with chain guards removed.
Always check for buried utilities before trenching.
Never try to remove rocks from the digging chain with the chain running.
Identify any and all potential risks and make plans to avoid them (consult an expert on risk minimization if necessary).
Test for atmospheric hazards when workers are more than 4 feet deep. 2
When employers share the details of their safety and health programs with workers, they should emphasize the critical role workers play in keeping the job site safe. Employers should consider establishing and maintaining safety and health management systems that provide systematic policies, procedures and practices for protecting workers from job-related safety and health hazards.
With these tips in mind, you can keep your job site safe, healthy and happy and complete your task on time.
Become a snow plow expert. Click below to download the latest free offer from Winter® Equipment.

1See www.osha.goc/Publications/safety-health-management-systems.pdf
2Informative list via Sandvik