Every year Winter® Equipment works with The Salvation Army to provide bicycles and donations to children and families around Lake County, Ohio. "Santa's Bikes for Kids" is a fundraiser that was organized by Winter® Equipment owner Kent Winter. He is heavily involved in charities around the area and this one continues to be a great success. 2014 marks the 7th annual campaign to help those struggling during the holiday season.
Donations started being accepted at the beginning of October and within this timeframe, has already collected 109 bikes and $5,000 in donations. This number is growing every day towards the goal of $8,000! These donations go directly to The Salvation Army in Lake County and will be distributed by the Painesville location.
There were (and still are!) multiple ways to donate, whether it be directly through Winter® Equipment, The Salvation Army, or with the chinese raffle.
From 11am-1pm Monday through Wednesday next week, the auctions will be held at Winter® Equipment, located at 1900 Joseph Lloyd Parkway in Willoughby. Ticket prices are 3 for $1. The drawing will be held at 9am on Thursday, December 18th.
Items include gift cards from restaurants and stores, beauty products and services, photo shoot sessions, autographed memorabilia and other great prizes.
Thank you to the following places that have donated towards the raffle prizes!....
| | |
| --- | --- |
| Max & Erma's | Winking Lizard of Mentor |
| Buffalo Wild Wings | Penn Station Subs |
| Bakers Square | Jersey Mikes |
| Capps Pizza | Ellie Vayo Photography |
| Guiseppe's Pizza & Subs | JT'S Diner |
| Giant Eagle | TGI Friday's |
| Panini's Willoughby | Cleveland Indians |
| Tommy's Sub Shop | Lake Metroparks |
| Firehouse Grille & Pub | Lowes |
| Mosack's Religious Gifts | Jennifer & Company |
| Quaker Steak & Lube | Crush Salon |
| Terry's Shoes Foot Care | Art Gallery |
| Beal's Pickles and Pints | Barnes & Noble |
| Pranzo Restaurant | Plant Magic |
| Ballantine's Restaurant | Walmart |
| North Coast Photography | Avenue Beverage |
| G & G Tattoo | Wine 4 U |
| Michael Stefan Salon | Family Christian Store |
| Atlas Cinemas | Sweet Beginnings |
| Applebees | Starbucks Mentor Mall |
| Chick-Fil-A | Starbucks Willoughby |
| Molinari's | Mario Fazio's |
| Sweet Berry Fresh Market | Gales Garden Center |
| Ladies & Gentlemen's | Palm Beach Tan |
| Home Depot Mentor | Paisley Farm |
| M & L Trucking | Office Max |
On December 11th, employees from Winter Equipment, Salvation Army and Walmart spent the day loading trucks full of bikes bought at Walmart with the cash donations.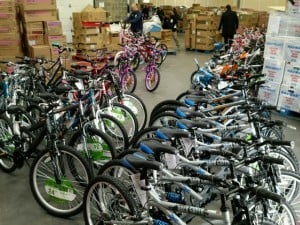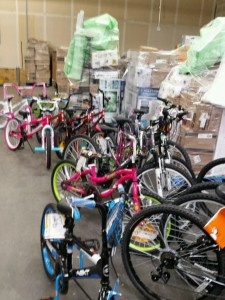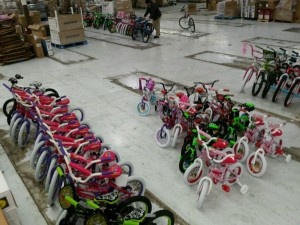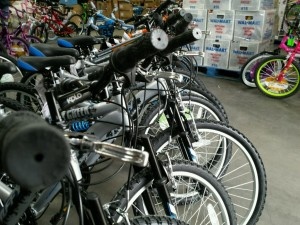 And another huge thank you to the following who have contributed cash donations!....
Individuals include:
Drake Rittenhouse
Bill Heil
Jim Rode
Francis Suszynski
Companies include:
Superior Flux
Gallagher & Co.
Ferrari Transfer
A & S Machine
Kleifields
Victor Metals
Imperial Metal Solutions
USM Precision Products
Eagle Welding
Bordonaro Snowplowing
Snowplow Technologies
Willo True Value
Advanced Robotics
Search Masters
RGM Materials
Ridge Pointe Child Care
D & S Automotive
Ecometal
Powerline Engine
Accurate Metals
Heisler Tool
Reed Financial
Lost Nation Convenient Store
Ajax Tocco
Manning & Manning
Finestra Gallery
Kopachko Machining
China PacifiCarbide
Spinners
M H Containers & Equipment.
Spee-d-Metals
Click below to take advantage of the latest offer from Winter® Equipment!