Using the wrong bolt can result in lost production time, costly maintenance time or expensive equipment damage. Look for the Xtendor® logo to ensure you are using the highest quality fastener on the market today. Don't take a chance on using the wrong bolt when assembling your plow blade and scarifier blade systems.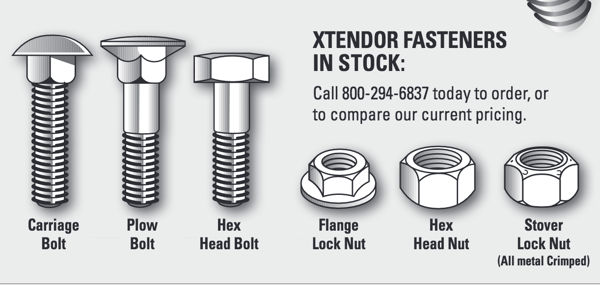 Here are a few tips to ensure you use the right bolts the right way for your job.
BOLT TIPS:
Always use Grade 8 Xtendor® plow Bolts.
They are hardened and will not stretch when torqued.
Number 3 head plow bolts (with self-locking nuts) will greatly reduce the likelihood of blade chatter and bolt failure.
Bolts torque should be 220 ft./lbs. (Torque spec for 5/8" Grade 8 bolt.)
Over-torque will cause heads to pop off.
Under-torque will let the blades move during use, causing the blades to shear the bolts.
Calibrate impact wrench periodically with a torque wrench to 220 ft./lbs.
NUT TIPS:
use Grade 8 Xtendor®
They are hardened and will not "mushroom" or flatten in use.
lock nuts are preferred because they lock to the bolt and are always Grade 8.
Standard nuts, if used should be Grade 8.
We recommend you double nut when not using a lock washer.
DON'T USE LOCK WASHERS:
lock washers gouge the backside of the snowplow moldboard because the washer is harder than the moldboard.
Hardened lock washers act as a cutting tool, causing unwanted "metal shards" on the moldboard where the nut is to seat.
No matter how hard you tighten the nut, these metal shards will flatten under use, causing the nut to loosen on the bolt and eventually shear the bolt under use.
Use a hardened lock nut to alleviate this condition.
If using standard Grade 8 nut, double nut.
Remember, Xtendor® Brand 5/8" Grade 8 Plow Bolts with matching nuts and washers stand tough against the harshest working conditions. Call Winter® today and one of our representatives will get you the tools you need.
Learn more tips, tricks and advice to make your operation more efficient by downloading the latest free offer from Winter® Equipment.